WHO WANTS TO BE THE NEXT CHANNEL 9?
In a world reliant on electronic communication which creates trillions of TBs of data every day, storing personal and business content securely and protecting it from phishing and cyber-attacks is the number one priority for CIOs and will continue to be for years to come. In 2020, organisations like the IRS, Travelex, EasyJet, Estee Lauder, HMRC, Virgin Media, Canon, Manchester United Football Club, AWS and Mashable all recorded security breaches of some kind, proving no industry or business is safe.
To protect our privacy, GDPR and other information protection, governance and compliance measures have been put in place by authorities globally which organisations and institutions must adhere to.
Since the start of the pandemic, 60% of users have been or currently are working remotely and data is traveling between users, devices, apps and services more than ever before. Businesses are working with customers, partners and remote or outsourced employees and sharing sensitive information inside and outside of their organisation. So, how do you know whether the data is safe? To ensure the protection of sensitive information, you need to start by identifying which data is sensitive, what kind of protection it requires, how to apply protection and how to track usage of traveling data.
AZURE INFORMATION PROTECTION
Microsoft 365 security includes the Microsoft Information Protection (MIP) framework, of which Azure Information Protection (AIP) is a tool. AIP is a cloud-based solution favoured by Enterprises allowing organisations to locate, classify and secure documents and emails by applying labels to the content. AIP extends the labelling and classification functionality provided by Microsoft 365.
There are a number of ways labels can be applied:
Manually by users
Through admins defining rules and conditions
Via a combination of these methods where users are provided with recommendations
Azure Information Protection provides you with:
Intuitive and easy to use controls which help you make the right decisions and remain productive. The data classification and protection controls are integrated into Office and common Microsoft 365 apps and the one-click options make it easy to label and classify content
Steadfast protection which tracks sensitive data ensuring it's always protected – no matter where it's stored or who you share it with
Clarity and control over shared data by tracking usage with powerful logging and reporting allows your IT team to monitor and analyse data or revoke access if required
Reduced risk from sharing with external users by defining who can access data and what they can do with it based on your chosen use rights policy. For instance, some users may be able to view and edit certain files but not print or forward them
PROTECTING DATA
The following image shows the Azure Information Protection additions to MIP. Source: Microsoft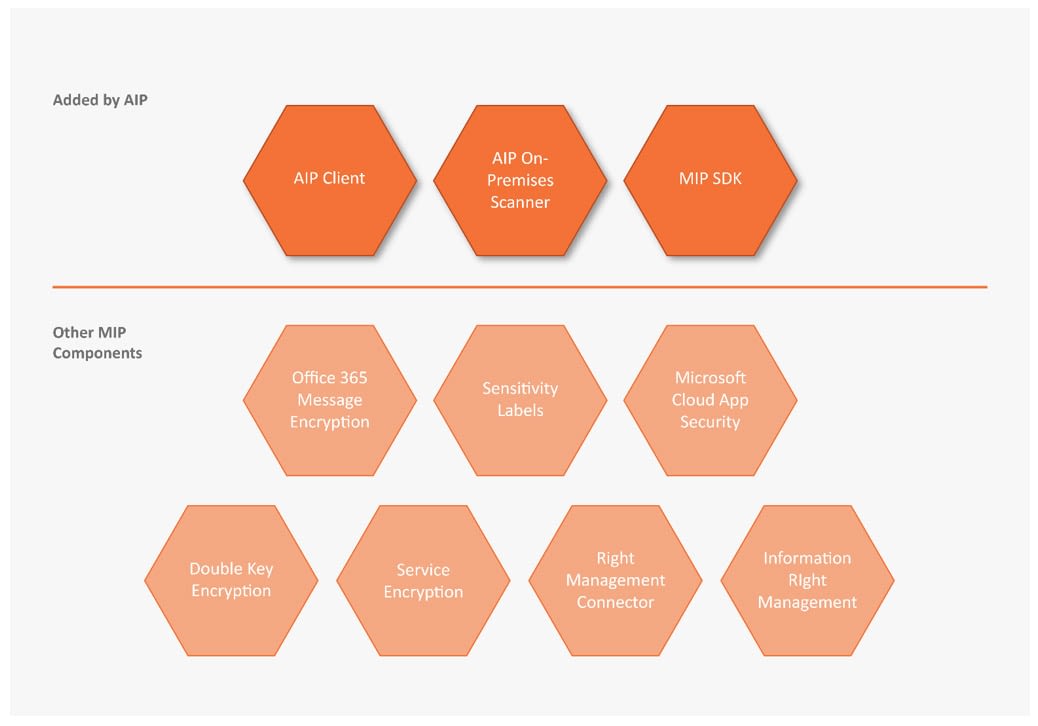 AIP uses Azure Rights Management or Azure RMS built into Microsoft 365 and Azure and can be used in conjunction with other on-premises or cloud hosted security solutions and business applications you are running. To keep data secure and under the control of your organisation no matter who it is shared with, AIP uses encryption, identity and authorisation policies. Much like the way labels are applied, Rights Management stays with data – documents, emails etc. – no matter where it is located, so your internal and external networks, servers and apps are always protected.
To understand more about AIP and how it relates to security solutions and services offered by Insentra, check out the AIP edition of our Late Night Brew series, read our AIP deployment blog series or download our deployment solution overview.