The Complete Guide to Microsoft Defender for Endpoint​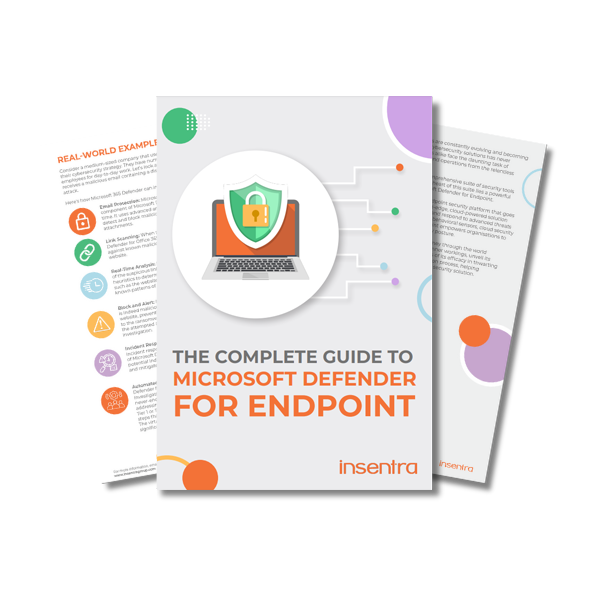 In today's rapidly evolving digital landscape, the urgency to safeguard sensitive data and digital assets from sophisticated cyber threats has never been greater. Microsoft recognises this critical need and offers the ultimate defense through Microsoft 365 Defender. At the core of this suite is the formidable Microsoft Defender for Endpoint, a game-changing solution against cyber threats. This guide is your passport to an in-depth understanding of how this powerhouse security solution can revolutionise your cybersecurity strategy.
Inside this guide, you'll find:
Deep insights into Microsoft Defender for Endpoint's role against modern cyber threats.

Learn its cutting-edge features, including behavioural sensors, cloud security analytics, and threat intelligence

Uncover six ways Microsoft 365 Defender enhances your security stance

Gain insights into threat detection and response strategies, reducing vulnerability through behavioural analysis, real-time monitoring, and cloud security intelligence.

Discover real-world examples showcasing how Defender for Endpoint effectively thwarts cyber threats in action.

Understand the process of transitioning to Microsoft Defender for Endpoint, ensuring seamless integration with existing security systems while bolstering your defense.

Gain clarity on the licensing models that give you access to the full suite of Microsoft 365 Defender features, without additional costs.
Equip yourself with the knowledge to combat cyber threats head-on. The Complete Guide to Microsoft Defender for Endpoint offers invaluable insights, strategic techniques, and real-world examples to ensure your digital assets remain impervious to evolving dangers. Download now.
Download your copy to learn more about The Complete Guide To Microsoft Defender For Endpoint.