In Part 2 of this blog series, I provided some pointers and an approach to follow when you start creating an information architecture for SharePoint and Microsoft 365 (M365).
As a starting point for this blog, we will consider the foundational elements of an information architecture required as inputs into a detailed plan. These elements include things like data location, applications, features, functionality and business processes/ activities (all based on the overarching business requirements).
These fundamental elements provide a clear way to start thinking about what user adoption activities might be necessary following the enablement of related workloads in Microsoft 365 including OneDrive, SharePoint, Teams, Yammer, etc.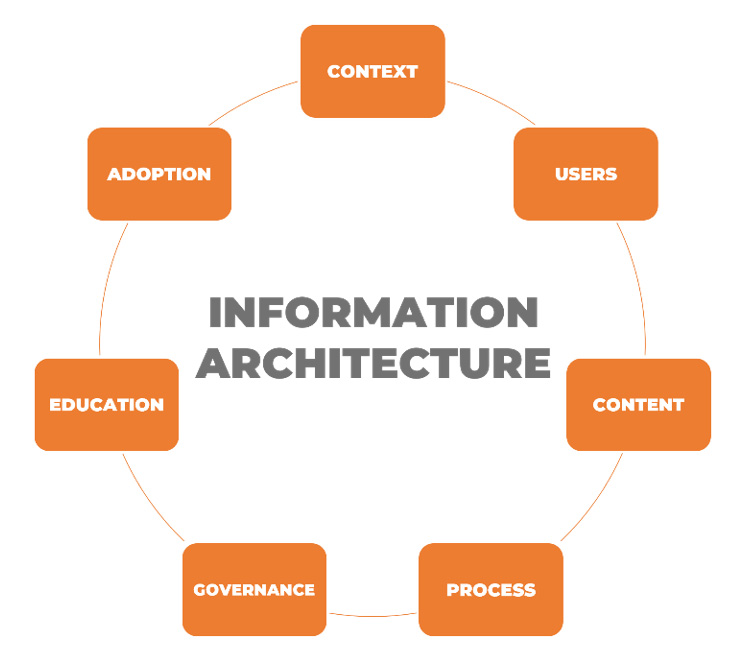 INFORMATION ARCHITECTURE FOR USER ADOPTION
An analogy I have found useful in explaining the role of information architecture in support of any user adoption strategy is likening it to a compass. A compass enables us to set a starting point and an END POINT for a journey and helps us to continue moving in the CORRECT direction.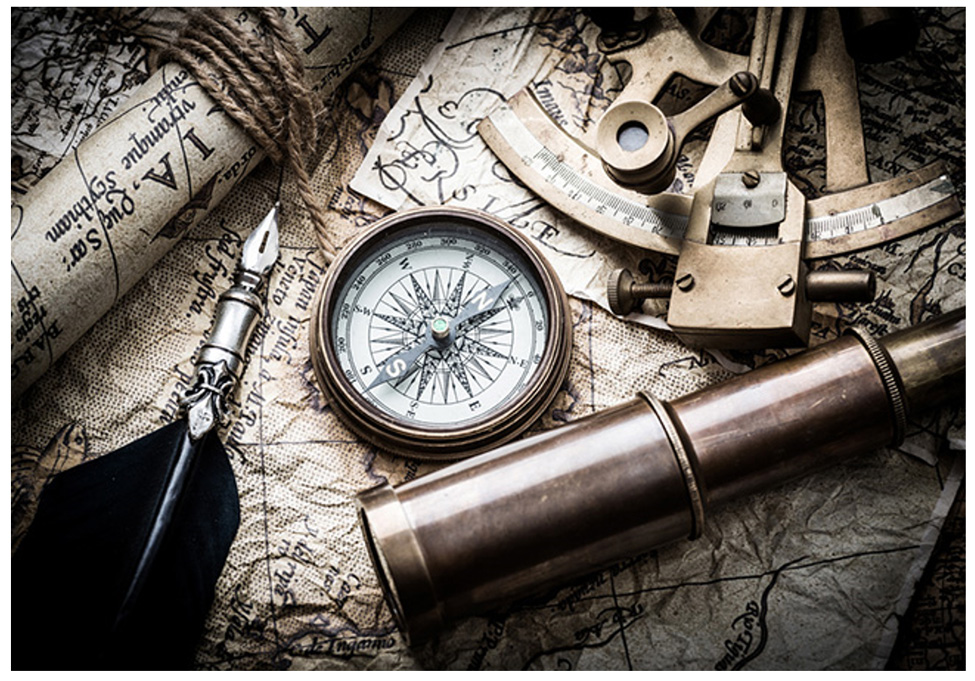 In much the same way, a well-defined and applicable information architecture framework helps guide users through any relevant user adoption activities and aims to maximise the investments made in M365. At the same time, the FRAMEWORK provides a compass to help them keep MOVING in the CORRECT direction.
With an information architecture 'compass' in place, the following benefits begin to be realised:
Users (particularly new hires) don't spend lots of time digging around in areas irrelevant to them
Complex business processes become simpler
Simple business processes remain simple
The focus remains on objectives rather than on data transformation and efficiency goals start to become realistic transformational goals are most likely to resonate with your business, however, while end users must acquire a general understanding of information architecture, they are far more likely to be engaged and interested in how the information architecture applies to their day-to-day activities and whether it delivers clarity and value for them.
HOW DO WE RELATE THIS TO M365?
Any implementation of M365 requires some thinking about information architecture, and it is now more common for projects to be focused on key activities such as how to drive adoption of Microsoft Teams, how to increase the use of OneDrive for Business as a key collaboration tool and how to migrate to SharePoint etc.
These are all activities and supporting workstreams which should be carried out as part of the definition and delivery of information architecture (rather than as an end to themselves).
When these individual workloads are considered in the 'big picture' we begin to see how users utilise and interact with the data and content stored in these locations and this enables us to begin to think about how the various business processes should be supported by the information architecture.
With modern M365 workloads (particularly SharePoint Online), there has been a marked shift away from the more formal site hierarchies and metadata structures typically seen in legacy implementations.
The following points are provided to indicate a more natural approach to supporting end-user adoption:
This shift is driving new business data management needs and often requires data owners and information managers to adjust their focus accordingly away from technical solutions
Instead of leading card-sorting exercises (as an example) to build out formal taxonomies and data models, we need to build strategies for user engagement and technology adoption which focus on the data and its stewards
The goal is to help our users make sense of the data being surfaced to them every day while adapting to new methods of working and collaborating, to ensure they optimise time working on those activities related to the data
A robust, yet intuitive information architecture addresses the above points and, if planned properly, should fully encompass the key workloads of M365 as well as the key business and end- user processes.
This approach can hugely impact the end user journey in a positive way and help to map out adoption activities as follows:
Introduce a new workload (e.g., SharePoint) to users in a way which is tailored to their skill set and technical abilities
Provide individual examples on how to use SharePoint based on roles and responsibilities
Focus on the benefits users can achieve by using SharePoint, in other words: show how this new capability can be used to meet individual goals
Explain how SharePoint fits into the overall information architecture and company strategy
The following is an example of a high-level information architecture design pulling together legacy SharePoint as a data location as well as key M365 workloads.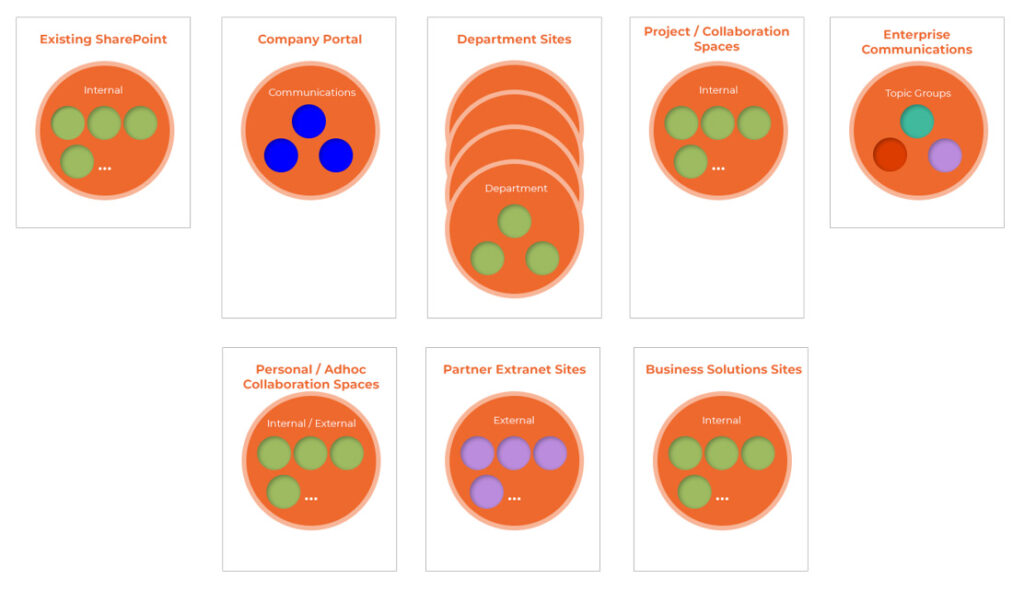 Once an overarching 'map' has been defined to set out (at a high level) the typical use cases and content areas for M365, it can then be used to define a suitable set of user adoption activities targeted at key business processes while maintaining an awareness for end users and content owners as to the related data locations.
Even at a very simple level, this approach can help to reduce confusion and help everyone in the organisation to find answers to the following typical questions:
How should I complete a particular process?
Where will I find the information I need to complete a process?
When should I use a particular workload (e.g., SharePoint or OneDrive)?
Why are there multiple ways to complete a particular task?
This approach also provides content owners with a way to evaluate ongoing information architecture needs for whatever unique audiences may be required (for any given business scenario)
IN SUMMARY
The key takeaway here is in obtaining a basic understanding of how to apply this approach to enable the creation of intuitive, business process-centric user adoption and education campaigns. This way your user adoption strategy will also reflect the culture of your organisation and related user behaviors while also supporting the widest range of business process needs in M365
If data owners and information managers can connect the dots between their information architecture framework and what is needed to support user adoption activities, this will provide the knowledge and understanding required to underpin and drive successful user engagement.
Moreover, it will help to establish simple yet powerful methodologies to drive the M365 maturity model growth within your organisation.
For more information on Governance in Microsoft Teams, check out our Microsoft FastTrack services.