Veritas has unveiled the new 360 Data Management™ Suite, a new offering that packages data management components under a single subscription license to better suit the needs of businesses as they move toward digital transformation.
The Veritas product portfolio already offers one of the industry's broadest and most comprehensive set of multi-cloud data management solutions. With the introduction of the 360 Data Management Suite, Veritas is now making it easier and less expensive for customers to modernise all aspects of data management, whether on-premises or in the cloud. The new Suite is priced favourably compared to Veritas products purchased separately.
The role of IT leaders has shifted over the past several years. The focus used to be on infrastructure management. Now, data management is their top priority. Organisations are looking to transform into a digital business. To do this, they're looking to migrate to the cloud, while ensuring that they comply with global regulations. This is also where the 360 Data Management Suite can offer significant advantages.
Veritas' new solution Suite will enable organisations to transform and compete in the digital age by freeing up IT administrators to focus on the projects that will drive their businesses forward. At the same time, it will make data more visible, accessible and mobile to the organisation.
Licensed per terabyte of data and priced on a subscription basis, the 360 Data Management Suite is available in three levels of functionality that are easy to adopt, maintain and upgrade.
Available in Bronze, Silver and Gold editions, each includes the competencies of the lower levels, plus additional capabilities to address specific needs of the customer.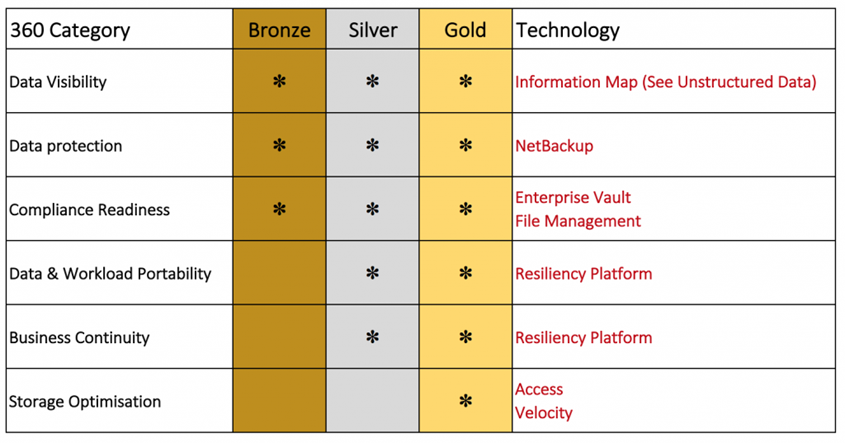 Bronze lays the foundation for data management with data visibility, backup and archive with NetBackup 8.0, Information Map and Enterprise Vault File Management 12.1.2.
Silver facilitates business continuity and workload mobility by enabling disaster recovery and application portability across the multi-cloud, with the addition of the Veritas Resiliency Platform 2.2.
Gold optimises storage utilisation and performance by eliminating copy management overhead and leveraging software-defined storage paradigms with the addition of Veritas Velocity™ 2.0 and Veritas Access 7.2.1.
Taking the 360 Data Management approach provides organisations with flexibility at any point in the information management and governance process. Traditional approaches meant that there was a flurry of activity from vendors at the point of renewal, where the only options were to "renew" your license or entitlement, or "move" to a cheaper alternative. 360 Data Management now allows organisations to be very agile in the way in which they manage information, and ensures that information is achieves the correct classification and continuous governance is achieved and provable.
The legislations now have teeth and with GDPR almost upon us and mandatory disclosure already in effect, having a 360 view of information including personally identifiable information (PII) is paramount.
Adopt 360 DataMgmt, adopt change, and get ahead of legislative changes, reach out now to @insentra to understand how successful integrations look.