There is a lot of "noise" that occurs during any given day which can distract us from our productivity goals for the week, so I believe it is essential to organise my week ahead of time. I thought I would share some things I do to keep me organised throughout the week.
1. To-Do Lists
Psychologists have performed several studies on the to-do list and most agree that to-do lists "done right" can relieve stress and produce a sense of satisfaction. In the 1920s, Dr Bluma Zeigarnik performed studies which show crossing things off of a to-do list allowed our brains to focus on other tasks, whereas our brains, on the other hand, continued to dwell on unfinished tasks. E.J. Masicampo and Roy Baumeister further proved making a plan to get things done quiets the mind's goal-pursuit process which is occurring even in the subconscious, i.e. nagging.
There are many books like David Allen's "Getting Things Done", articles, and blogs about creating to-do lists and the right way to do them. I am not going to dive into the right way to create and manage a to-do list because I think there is some personal choice involved in the "right way". However, I wanted to share some tips I have used which have been effective for me.
2. When to plan for the next week?
I find Friday afternoons are a good time to plan for the next week. During this time I can assess what went well for the week and also, what did not go so well. There is always room for process improvement. I also confirm the current tasks I have which will flow into the next week and what new tasks I have for the next week.
I used to pull out a writing pad and write those tasks down and put little boxes next to each task to check off. Yes, I know you don't need a box, but I find checking a box immensely satisfying. Then I would put a number next to the task so I could prioritise which tasks are most important.
However, Insentra implemented a new solution a few months ago, called Nulia Works and began representing them globally as we found it incredibly valuable in enabling users to significantly increase their productivity using Office 365. There are many things to love about this tool, but one of my favorite things so far is that it introduced me to Microsoft To Do. My writing pad with a running to-do list is now digital! Better yet, it syncs with your Outlook task list so you can get reminders, prioritise tasks, set due dates, etc.
3. Using my Outlook calendar
Like most professionals, I use my calendar as a collaboration tool to set internal meetings with my teams and with clients and partners, and add personal appointments that I shouldn't miss; like doctor's visits. However, I also use my calendar as a way to organise my days to allow for meeting prep time, travel time, and to-do items from my list which are critical or are time-constrained. If setting up your calendar to work as an organisation tool for you is new, there are several great blogs online. One in particular which I thought was a great resource was a blog called How to Create an Ideal Work Week by Tricia Sciortino in Thrive Global on October 3rd, 2019.
Tricia also believes strategising your week can increase productivity and looks at goals/tasks which she calls rocks from the perspective of size. She recommends starting with big rocks which are your immovable appointments, like meetings, travel time, prep time, personal appointments, etc. Next, fill in your pebbles which are tasks. For me, this would be my critical to-do list tasks. Lastly, fill in the sand, which are smaller tasks that help your productivity goals.
And finally, I color code my appointments. This helps me understand what my day is going to look like at a glance. It also lets me know how much flexibility I have in my day. I have been told my calendar scares people when they see it, but you don't have to be as granular in your coordination. I would suggest using four colors to identify immovable business appointments, immovable personal appointments, critical tasks, and non-critical tasks.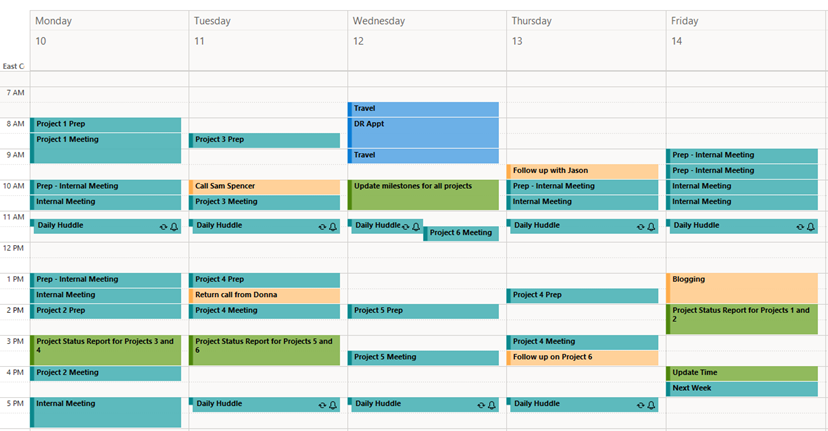 4. Unplanned Tasks
In a perfect world, your to-do list for the week would be set in stone and nothing would come up during the week to upset the balance you have created. However, we know this is not the case. Throughout the week tasks can come from meeting action items, other crew members, volunteer opportunities, management, and even personal events. Once you identify the task and confirm expectations on due date and criticality, add it to your to-do list, spend a few minutes to reprioritise the list, and update your calendar accordingly.
5. Finally!
When you have completed a task on your to-do list, celebrate your accomplishment and check it off because you will feel fabulous. Richard Branson, the founder of Virgin Group is a proponent of to-do lists and you can find several blogs about his lists on Virgin.com. The last items on his New Year's Resolutions and Making Lists blog he wrote in January 2016 says "Celebrate your successes then make new lists of new goals." This also aligns with Insentra's core values to celebrate our successes and our wins.