An announcement was made at Microsoft Inspire in July 2021 around the latest addition to the VDI scene – Yes, you guessed it right, Windows 365. This blog will introduce Windows 365 aka Cloud PC.
In layman's terms, you provision a PC running Windows 10, or 11 for a user in the cloud. Now, you may be thinking, isn't Azure Virtual Desktop (AVD) already doing this? Yes, absolutely, however Cloud PC is focused on single user sessions, unlike AVD which serves the requirement for multi-user sessions. In Cloud PC, there are various license SKUs, depending on the VM specifications and the monthly charge is fixed regardless of the usage.
Now, let's dig a bit deeper. Cloud PC comes in two different flavours – Business and Enterprise. Ok this sounds good, now what's the difference between them. Business is limited to 300 users, whereas Enterprise doesn't have a user limit, plus you can also integrate it with Intune and Microsoft Endpoint Manager (MEM). Unlike AVD, Cloud PC is simple to setup and requires slightly less technical know-how (relatively speaking!).
License Requirements
The technical and licensing requirements for Windows 365 Enterprise are:
i. Users licensed for Win10/11
ii. User should be assigning an Intune license
iii. Users licensed for AADP P1
iv. Connectivity to existing on-premises Active Directory (AD) (for now! Watch this space for changes)
v. AAD Connect sync with Hybrid domain join enabled
The Business edition doesn't have any of these licensing prerequisites and is joined to Azure AD. You can purchase the Business subscription either from the Windows 365 product site or M365 admin centre. If your business is using Microsoft 365 Business Premium, E3 or E5, you are already covered for Windows 365 as these license SKUs come bundled with Intune, AADP P1 and Windows 10.
WINDOWS 365 CONFIGURATIONS
There are different SKUs available for both Business and Enterprise depending upon the VM specifications relevant to your use cases. Microsoft has made it even simpler for businesses to pick what VM specifications would be suitable for different user types. The below tables expand on the different scenarios and recommended applications: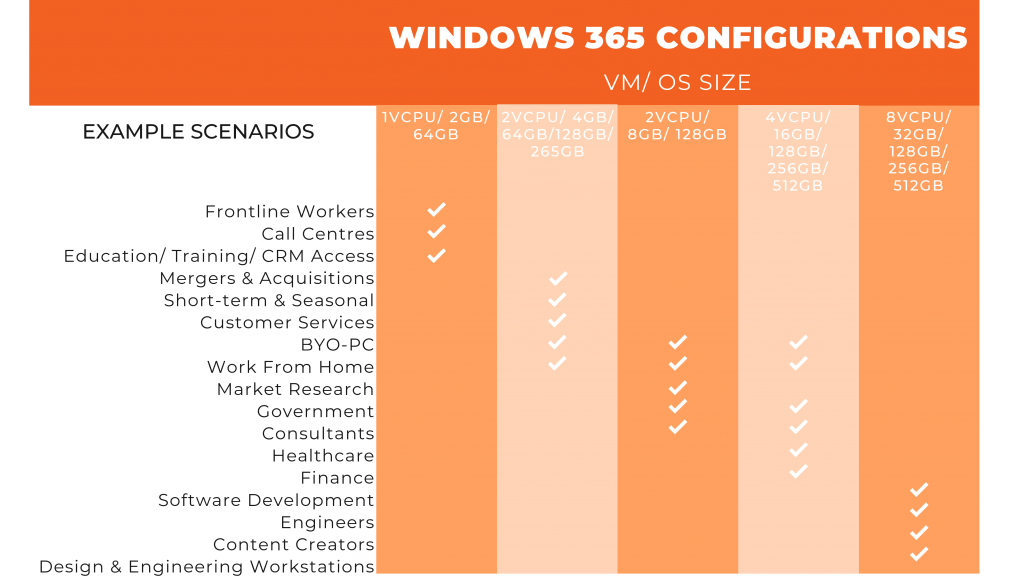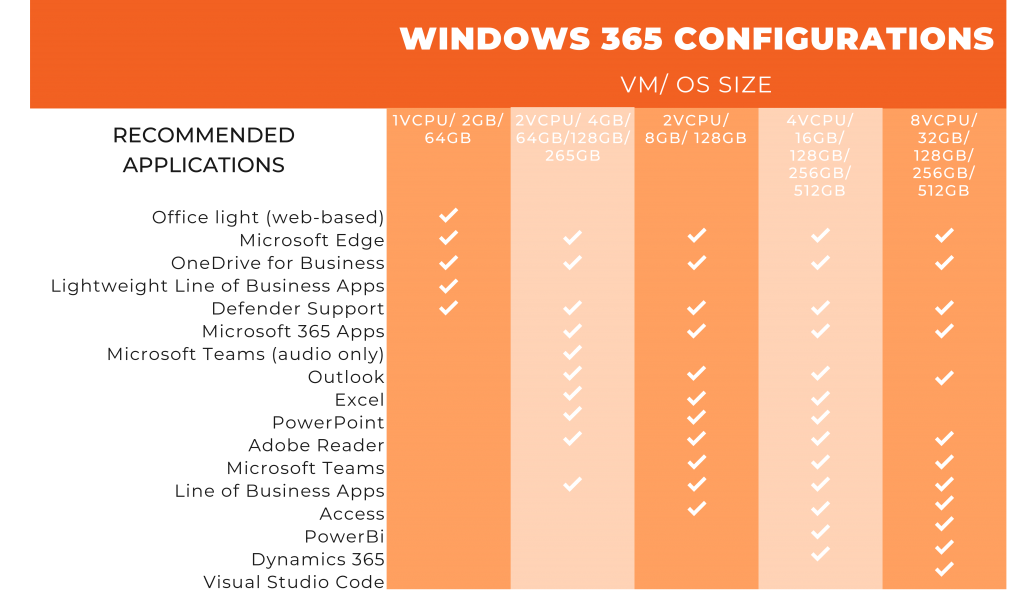 I hope this has provided you with a better understanding of what Windows 365 is and the configurations available to you for deployment.
For the latest on Microsoft, check out our monthly FastTrack updates. Until next time…Hasta-la-vista!